Working, Camping, Sailing, Gaming? 7 Reasons Why You Need a Travel Charger Kit!
Date Posted:26 July 2011
Have you ever been travelling and left your charger at home, or worse, in a hotel room? This handy little travel kit (Energizer® Energi to Go® XP2000K) will make sure that you always have power at your disposal. You don't even need an outlet!
It packs a punch on boosting battery life, charging Smart phones to full charge and other phones up to 3 times! Imagine when your commuting and you run out of power. Rather than being stuck with no email, games or music, pull out this little unit and your good to go!
It can be used for more than one type of phone – so the whole family can stay juiced up! You don't need one each – you can share the power on long trips with connection tips for iPhones, Blackberry, HTC and more!
It's not just about phones you know? The kit can be used to charge games and MP3 players too – now you can finish that last level and listen to tunes while you do!
It is very portable and takes up little room when travelling. The small size makes it easy to store and carry. Its dimensions are 83.82 (L) x 58.42 (W) x 12.7 (H) mm and it weighs just 70 grams. More space in the suitcase or the car and can even sit neatly in your handbag!
This unit can be recharged both with an AC adaptor at home or in the hotel and also comes with cigarette car adaptor for when you are camping or on the road.
The fast recharge of 4 hours means that you don't have to wait overnight to be able to use the kit.
And last but not least, this little package comes in a weatherproof travel bag. So it's great for camping or sailing too!
The Energizer® Energi to Go® XP2000K is $89.95 and is available for shipping today! Order now before you head off on your next trip. Make sure you don't get caught powerless!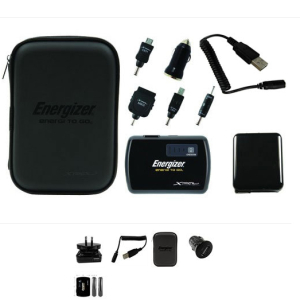 Energizer Energi to Go XP2000K Travel Kit