The Sena 20S-EVO or the Sena 30K: Which Bluetooth Motorcycle Headset Is Better for You?
Date Posted:3 July 2019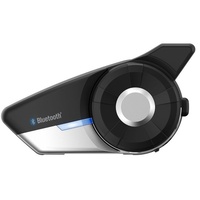 At Mr Mobile, we are proud to stock a variety of Bluetooth motorcycle headsets and speakers. Whether you are looking for a way to stay in touch with fellow riders or just seeking a solution for on the go music playback, we can help you find the right gadget for the job. Two of the best Bluetooth headsets we currently have available are the 20S-EVO and the 30K, both from Sena. The question is, which of these two headsets is a better fit for your specific needs? Read on for an in-depth comparison between these two Sena headsets.
Price and Budget: Obviously, a big factor for many riders when it comes to choosing a headset is the price. Your bike and all the protective gear you needed to buy to be a safe rider were already expensive, so keeping the cost down with your Bluetooth headset might be a priority. Of these two Sena headsets, the 20S-EVO is a little cheaper, clocking in at $355 for a single or $649 for a dual package. The 30K is only slightly more expensive, though: $399 for one and $699 for two.
---
Number of Connections: How big is your biking group? The 20S-EVO allows for Bluetooth connections with up to eight other headsets. Those connections are stable up to approximately two kilometres. The 30K incorporates what Sena calls 'mesh intercom technology,' which does two things: it extends the range of connections up to 8km and increases the number of possible intercom connections to 16. These factors make the 30K a better option for larger groups.
Bluetooth & Mesh Compatibility: When communicating via intercom, the technology used needs to be all bluetooth (all 20S-EVO units) OR all mesh (all 30k units), not a combo of both. The 30K does have the ability to bluetooth to a 20S-EVO but if the rider is group riding with other 30K users, they have to toggle to bluetooth to speak to 20S users. While this is possible, it's not practical to have to switch between mesh and bluetooth while on a group ride.
Talk Time: The Sena 20S-EVO has long been one of the most popular Bluetooth motorcycle headsets on the market thanks in part to its talk time capabilities. With up to 13 hours of talk time—or listening time, if you are using the headset for music playback—the 20S-EVO can get you through short work commutes and longer road trips alike. With the 30K, it's important to note that mesh intercom technology demands more power. As a result, while you are using mesh, you are likely to top out at eight hours of talk or music playback time. You can switch off mesh and use basic Bluetooth instead, which extends the 30K to the 13-hour battery life of the 20S-EVO. The trade-off is that, by turning off mesh, you lose the six kilometres of extra intercom distance the technology provides.
Charge Time: The good news, since you will probably be charging the 30K more often, is that the device also recharges faster than its predecessor. The 20S-EVO takes about two and a half hours to charge a dead battery fully. The 30K cuts the full charge time to an hour and a half.
The Verdict
The Sena 30K is essentially just a more technologically evolved update of the 20S-EVO. Beyond the differences discussed above, these devices mainly do the same things. They both offer FM radio, audio multitasking, advanced noise control, Bluetooth 4.1 capability and voice commands. In other words, if you have used the 20S-EVO in the past, you will be right at home with the 30K, and vice versa. To learn more about each device, or to get help deciding which headset is right for you, contact Mr Mobile today.