Watch TV on your iPad or Iphone 4s
Date Posted:18 May 2012
We all love to watch TV, whether it is sports, reality TV or high drama and now watching TV anywhere, anytime on your ipad or iphone 4S is possible. Watching Australian Free to Air TV on your ipad2, new iPad or iphone4S is amazingly simple with the plug and play iDTV dock. Simply download the free app from the app store, plug in your iDTV, tune in your channels and start watching TV.
There is no streaming of TV over a mobile network, no internet connection and no requirement to log into a wifi network . No additional software and most importantly no data usage on your mobile plan. The iDTV has its own built in battery so you wont drain the power from your devices.
We love our sport and with the Olympics just around the corner this TV dock is essential for viewing all the action and if you can't watch your favourite program live, you can hit the record button and watch it later.
Of course like any Free to Air TV, users must be in a good DVB-T reception area , or if not simply use the optional supplied terrestrial antenna to receive a great signal and excellent TV picture.
Unlike other mobile TV products, this has a very simple set up.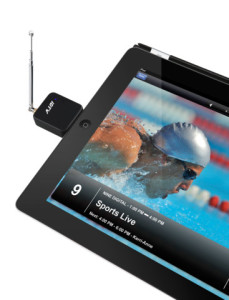 There is a free App from the Apple Apps store which supports the iDTV dock and provides an easy to use interface for watching, scrolling thru channels and recording your favourite shows all whilst on the go. Once connected users can tune into the Australian TV channels which is done automatically when the app is first launched.
The iDTV is MFI certified (made for iphone/ipad) and you will also need to be running your iPad 2, New iPad or iphone 4s with the latest iOS . The iDTV has its own built in battery which means it wont run the power down on your iOS devices, during testing we got over 6 hours of viewing time.