Watch TV on iPad, iPhone & Android without using internet
Date Posted:23 March 2014
The new iDTV is a device that allows viewing of live television on iOS and Android devices. A long requested feature for phones and tablets, the devices rely on regular TV transmissions and therefore don't use your data or internet connection.
For too long have phone and tablet users depended on content providers to make television and videos available for streaming in order to enjoy live or recent video content. This trend has been increasing in recent times with Foxtel offering its Foxtel Go service on phones & tablets and the free-to-air stations providing mobile compatibility with their catch-up services. As great as ABC's iview is, it uses a lot of the average user's mobile data allowance.
The iDTV overcomes this problem by attaching a TV antenna to your device and getting the picture from television transmission much like your current TV. The benefit of this is that it uses no data at all. The downside is that it will usually only work when outdoors, and, much like your antenna on your roof, requires a relatively unobstructed position to ensure the best reception. The other option is to use the coaxial input to connect the iDTV to your home's antenna and use your device as an indoor TV.
There is also a version of the iDTV tuner that will transmit the picture to your device using wifi. The signal is still received by the tuner using TV transmission but then passed on to your device using a wifi connection, all while using no data. This also allows multiple devices to watch TV simultaneously.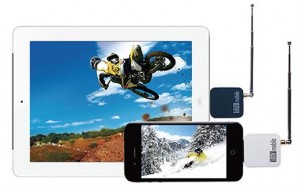 There is a free app available for both iOS and Android devices for use with the iDTV. It can tune all the standard definition channels available in Australia and can also record live TV. The app has the usual controls that you'd find on your TV such as auto tuning, subtitles and basic channel navigation.
The device has around 3 hours of battery life so if you're planning on a long camping trip or night of TV watching you'll need the ability to charge it. It also comes in the new 8 pin connector to watch TV on iPad & iPhone but for Android the wifi version is needed.
When in use the device works well. It's ideal for camping or hiking when you want to watch the game or see who's been voted off on the latest reality show. It's also useful for travellers such as caravaners who spend nights in different locations and need a way to easily return their TV. Overall it is a highly recommended device for those who want to use their tablet or phone to watch TV while avoiding high data charges.