Viseeo - Launch of new MB3 Mercedes Bluetooth kit
Date Posted:6 June 2011
CUSTOMERS PLEASE NOTE: Mr Mobile is no longer selling the Viseeo range of products.
Last week we visited the Viseeo factory and head office in Taipei for a demonstration and training of the new MB3 Mercedes Bluetooth kit. The picture shows William Ho (global sales director), Steve McDermott (CEO of Mr Mobile), Peter Huang (sales manager) and Mark Liu (global technical service manager).
LATEST NEWS FROM VISEEO – here is the latest news about the launch of this exciting product. Mr Mobile will have them in stock mid to late June, 2011.
MB-3, the latest product from ViseeO, is a totally redesigned Bluetooth upgrade adaptor for your Mercedes (UHI version).
Build up on the success of the popular MB-2 Bluetooth upgrade adaptor, ViseeO engineer team has always been looking for more possibilities than just a Bluetooth communication device. That is why they have gone back to the drawing board and come up with a premium Bluetooth device that would bring even better communication and entertainment experiences to your prestigious cockpit.
To start with, MB-3 is equipped with the new CK5050+ Bluetooth module supplied from Parrot, the leading Bluetooth handsfree company worldwide. This particular module will bring you amazingly fast phonebook sync performance, excellent compatibility and brilliant sound. With more pairing device support you can now pair up to 4 phones with MB-3 and each pairing setting can carry up to 1000 phonebook number individually to gives you total of 4000 phonebook entries* for each MB-3.
During the past 2 years, ViseeO marketing team has been endeavoring to find out the most wanted features to be added to the MB-2 and A2DP music streaming has come up as the No.1 desired function. However, our engineers did not stop there and they have thought all kind of possibilities for playing music therefore, iPod/iPhone and AUX-IN have all been included into the MB-3's main features.
As Mercedes UHI interface was originally designed for mono sound communication hence, it can not carry any stereo music to your console. ViseeO team has come up a relative easy solution for playing the external music in stereo sound which is via the FM transmitter. Every MB-3 has a built-in FM transmitter with 3 memory channel to allow you broadcasting the A2DP/iPod/iPhone/AUX-IN music to your car radio with near CD quality sound.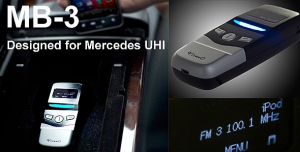 MB3 Mercedes Bluetooth Kit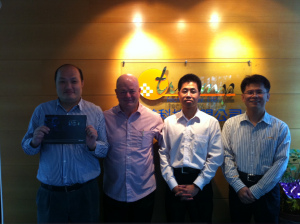 Viseeo Visit in Taipei
Our engineer team has also thought out the problem of battery life of your music and phone device during a long journey and has included a PC-like USB charging feature that allows you to charge your iPod/iPhone, phone, MP-3 player, and many other devices that can be charged via PC's USB port.
As the functions on MB-3 get more complicated than before, it is important to ensure the smooth operation of the unit is possible, to do this our engineer has added the beautiful OLED display on the device to enable you an easier way to operate the unit. The standard wired remote control will enable you to perform simple music control function such as Play/Pause/Next/Previous songs. There is also an optional wireless remote control that will be able to allow you to perform the music function with no wire attached**.
*Depending on your Mercedes console, you can display either 1000 or 650 phonebook entries. CK5050+ can actually load 5000 entries per each paired phone however, due to the console limitation it will only display up either 1000 or 650 entries.
Major Features:
Compatible with Mercedes UHI interface
CK5050+ Bluetooth module
Super fast phonebook sync
Support iPod/iPhone music play
A2DP/AVRCP functions for wireless music playing
Integration with the steering wheel buttons
* Each MB-3 can actually receive up to 5000 entries per upload however Mercedes console has limited the number of entries to be displayed on its screen therefore depending on the console it can show either 1000 or 650 entries. With up to 4 devices can be paired therefore, each MB-3 can carry up to total of 4000 phonebook numbers.
** A2DP will only work with A2DP enable phones. Some phones may not have full AVRCP functions therefore, may not have the full music control (i.e. Play/Pause/Next/Previous Song). For instance Apple only support Play/Pause AVRCP control on their iPhone therefore, you will not be able to go to next or previous song via AVRCP.
***The charging port simulates PC-USB charging environment therefore, you must check whether your phone or music device can be charged via PC's USB port before this function can be effective.