Sena SR10 - Mass Communication Made Easy!
Date Posted:27 September 2011
Do you use a UHF radio for communicating or wish you could communicate to many people at once? Don't be limited by old technology…..jump into 2011 and experience the latest innovation that allows you to integrate the best of headsets, bluetooth and UHF. Mr Mobile will be the first to bring this powerful technology to Australia.
The brand new Sena SR10 has numerous applications. Whether it is motorcycle group riding, outdoor sports and activities or security, the Sena SR10 is a Bluetooth two-way radio adaptor based on bluetooth 2.1 and EDR technology.
This technology will change the way you communicate and all hands free! The unit is about the size of a small mobile phone and comes with clips and attachments for easy positioning. It is powered by a USB rechargeable battery and also comes with a power adaptor.
You can connect various non Bluetooth devices such as two-way radios to the SR10 and talk wirelessly using a Bluetooth headset. The SR10 also allows you to connect other non-Bluetooth devices such as a radar detector or a GPS.
The SR10, allows you to talk by phone or by two-way radio, listen to an alarm signal from a radar detector or to the guidance from your GPS.
The idea is to connect your devices to the SR10 "hub" which streams everything to your Sena or other Bluetooth headset or intercom.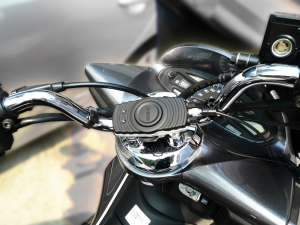 SR10 Mounted on Bike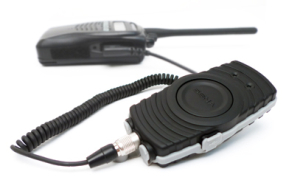 Sena SR10 Bluetooth Two-Way Radio Adaptor
The features of this funky unit are:
Bluetooth hands-free adapter for two-way radios
Bluetooth hands-free gateway for mobile phones
Connect 1 two-way radio and 1 mobile phone simultaneously
Compatible with standard stereo or mono Bluetooth headsets
AUX input for GPS, radar or Radar detectors
Handlebar mounting & belt clamping
Wired PTT button extension for handlebar grip mounting
Optional 12V bike-powered kit with on/off control by ignition switch
Firmware upgradeable
Two-year limited warranty
It has 12 hours talk time a whopping 10 days standby, making it the perfect accessory for long trips or critical communications.
We will have these in Australia by early October….so pre-order yours now so you don't miss out!
Here are some recent comments left on the Sena Facebook page:
Andrew Gittler
I have an SMH-10 now, and an SR-10 would really make for the ultimate motorcycle electronics setup. I already have GMRS radios that will work, and the Motorola 75-785 CB that should, so with 2 wires I'd be able to use either one. I could wire my radar detector with external speaker port to it, and even a Sony Walkman I have with an FM tuner. GPS, MP3, phone, GMRS, CB, FM and radar!
Jim Williams
Can't wait to get my hands on the SR10. I think of this as a Bluetooth router. Cool.