Sena SPH-10 Helmetless Headset – first in Australia!
Date Posted:21 June 2011
Mr Mobile will be the first place in Australia to supply the new Sena SPH10 – a full featured, long range, helmetless, bluetooth headset and intercom! This exciting innovation will transform communication for cyclists, workers, music lovers and users of CB radios. The possibilities are endless.
We are looking forward to revealing the product this week at the Queensland Safety Show. The Sena SPH10 will be available for pre-order in a couple of weeks – with stock available mid-July. These units will move fast – so make sure you get your pre-order in. Just contact us through the website and we'll let you know as soon as the pre-order is up.
With the SPH10 you can call hands free on your mobile, listen to music through your MP3 player, listen to your GPS navigation instructions and have intercom conversations with others up to 900 meters away.
Bluetooth Specification v2.1+EDR
Bluetooth Intercom up to 900 meters (980 yards)
Multi-way Conference Intercom for multiple persons
Bluetooth stereo headset for Bluetooth audio devices such as MP3 players
Bluetooth music playback control by AVRCP: play, pause, track forward and track back
Easy Headset Controls by versatile Jog Dial (Patent Pending)
Sufficient sound level with integrated audio booster
Bluetooth hands-free for Bluetooth mobile phones
Bluetooth headset or stereo headset for Bluetooth GPS navigations
Durable, Sweat and Water resistant for active conditions
Crystal clear and natural sound quality
Detachable Microphone support
Firmware Upgradeable
Up to 10 hours talk time, 7 days stand-by time
Can be used while charging on road trips
Individual volume control for each audio source
Stable and secure fit for active conditions
Peace of Mind – thanks to the 2-year warranty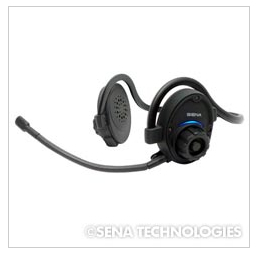 Sena SPH10 Helmetless Headset