Sena SMH5 - Australian Launch
Date Posted:16 February 2012
The Sena SMH5 is on its way to Australia! We will be showcasing it this weekend at the Australian Motorcycle Show on the Gold Coast. Come and find us for your personal demonstration of its fabulous features.
The SMH5 is a Bluetooth v3.0 Stereo Headset with Bluetooth Intercom is designed specifically for motorcycles. With the SMH5, you can call hands-free on your Bluetooth mobile phone, listen to music or voice instructions from your GPS and have two-way intercom conversations in full duplex with a passenger or other motorcycle riders.
Thanks to the latest Bluetooth v3.0 and the advanced digital processing technology, the SMH5 offers the best sound quality for both incoming and outgoing sound in its class. Also, the easy-to-access and intuitive button operations make the SMH5 a perfect companion for motorcycles.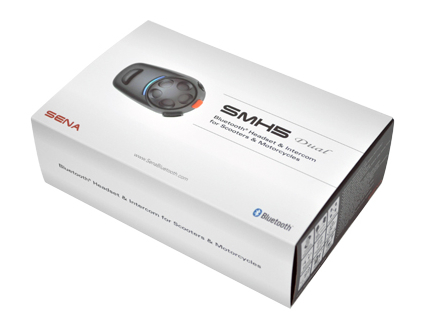 Sena SMH5
The SMH5 has a few less items in the sales pack and a with a basic offering, it comes with a very enticing price!
Features (Fact Sheet Sena SMH5)
Bluetooth Specification v3.0
Bluetooth Intercom up to 400 metres ( in open terrain)
Multi-Pair Bluetooth intercom for 4 persons
Bluetooth stereo headset for Bluetooth audio devices such as MP3 players
Bluetooth music playback control by AVRCP: play, pause, track forward and track back
Easy operation by versatile Jog Dial
Sufficient sound level with integrated audio booster
Bluetooth hands-free for Bluetooth mobiles
Bluetooth headset or stereo headset for Bluetooth GPS navigation
Water resistant for use in inclement weather
Crystal clear and natural sound quality
Individual volume control for each audio source
Firmware upgradeable
Up to 8 hours talk time, 7 days stand-by time
Whats in the Box
1 X Headset Main Unit
1 x Glued Surface Mounting Adaptor
1 x Velcro Pad
1 x Speaker - Microphone Clamp Unit
1 x USB Power Cable,
NB: there is no A/C charger or Cig Charger included these are sold separately
1 x Microphone sponge
1x Hex/Allen Key
Arriving shortly in Australia, so pre-order yours now to get some of the first to arrive!