Sena BT10-01 bluetooth intercom system road tested
Date Posted:22 December 2014
Summer is a great time to enjoy the outdoors, so last week I took the wife and kids on a favourite family outing. A visit to the local Air Show also seemed the perfect chance to put our latest communication device through its paces. Point is, we all love planes and the exhibits – and all the sideshow knickknacks – but now that the kids are in their teens, we don't all share the same likes at exactly the same time. But we do have the simple need to chat and to know where to find each other. SENA's Bluetooth Mic and Intercom BT10-01 solves that problem in excellent fashion – and saves on hefty mobile phone hardware costs and charges.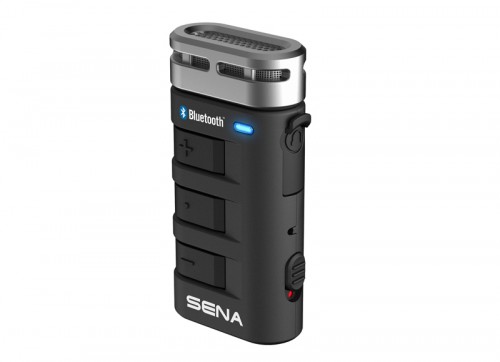 I'd already used the device to maintain dialogue with pillion passengers on my Harley Tours business and found it worked like a dream – crystal clear reception that cut right through engine rumble – with a microphone that is totally unfazed by wind noise – even when I use it with an open face helmet.
SENA are in the business of keeping people – and gadgets – connected seamlessly, and they are very slick about how they achieve it. First of all, the BT10-01 is very small; about the size and perhaps twice as wide as a disposable lighter. It fixes to your shirt or jacket with an alligator clip and you simply plug in your favourite ear buds or headphones, and then you're ready to rock. Now ALL kids have headphones, right?
That's why they can't hear you – because they're listening to their mp3 players or chatting on phones. So, now there's no excuse – the BT10-01 pairs to any Bluetooth device – mp3, phone, camera etc. allowing the user to use, listen and even operate that device hands-free: it even has integrated voice command functionality!
But best of all it will link up to as many as 4 SENA mic/intercoms – which is just what we did at the Air Show. Even though the kids may be using the device to listen to music – we can always use the intercom to override it and keep in touch whenever needed.
I'm inspired by the BT10-01 because the reception is exceptional and it has a range of 350 meters – so you could spread out quite a ways and still stay within listening range, even though we might otherwise be lost in the crowd. We were able to draw each others' attention to specific exhibits, join together for lunch, and of course – give each other that little bit of extra freedom – to be a family of individuals.
There is little not to love about this sweet, discreet wireless gadget. It's robust, well made, functions exactly as advertised, and has extraordinary battery life (6 days) and talk time (6hrs). Easy 2.5 hour recharge is achieved via your computer USB port, and it comes with several useful attachments allowing it be fixed on a headband, armband or dash-mount. The ability to record commentary to and even operate Bluetooth video cams and devices, such as SENAs own action cam or the GoPro, gives the BT10-01 a lot of scope.
I see the BT10-01 having applications not only for indoor and outdoor sports, but also within the hospitality industry, warehousing and a wide range of commercial and public service operations. Well done again SENA.
The SENA BT 10-01 is available from Mr Mobile by clicking here.