PowerSkins to hit Australia; Slip one on today!
Date Posted:29 June 2011
They're not called PowerSkins for nothing!
Imagine being stuck on the train and your battery runs out – no music, no phone, no email. Or you're about to snap a quick photo of your kids on holiday and the phone goes dead. Or you leave your charger at home and your battery is low at the office. We have the solution! Slip on a PowerSkin and recharge your phone in a matter of minutes. You'll never be left short on power for your phone again!
PowerSkin®, maker of shock-absorbing, battery-boosting smartphone cases, has announced the availability of skins for the HTC Inspire 4G and HTC Desire HD, boasting 1500 mAh of power. Mr Mobile is hot on the trail and has stock arriving in a few weeks for the BlackBerry, HTC and Samsung…..and of course the iPhone 4.
"Until now, Android users have been faced with very limited choices to extend battery life on these energy-guzzling phones," said David Becker, Vice President of Sales and Marketing at PowerSkin® / XPAL Power. "PowerSkins® fill that gap, providing a convenient, compact source of power, ideal for use on-the-go."
PowerSkins® are made of flexible, silicone rubber that protects against those inevitable drops, and they feature technology that extends battery life up to 8 hours.
Don't be caught short again. At just $89.95 these will go fast – so make sure you pre-order today!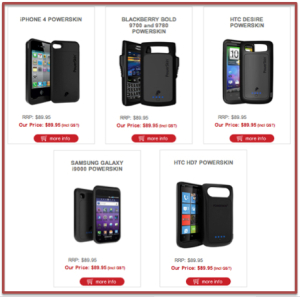 PowerSkins now available in Australia!