Power Up your HTC – and still play Angry Birds!
Date Posted:11 July 2011
Aren't the new smart phones amazing? How could we live without them? Play that game, listen to that tune, download that app, buy that shirt, find that restaurant, check in, post, follow and friend – if only it would make a cup of coffee! We demand so much of our smart phones these days with more functionality and slimmer, lighter casing and we still want longer battery life.
With all that activity, the drain on our batteries can still leave us short on power. PowerSkins® have come up with a solution. These soft cases feature a built in battery that packs an additional 1500 mAh of power for your Android powered Smartphone. With twice the power for your Smart phone, the PowerSkin® will give you 340 minutes of extra talk time. They are available for the HTC Desire and the HTC HD7.
The sleek design fits your phone like a skin, with openings for the camera lens and all ports. When you drop your phone or it gets knocked about – the silicone rubber protects your phone. Imagine life without it? Can't? Then grab a PowerSkin® today. They've just arrived in Australia and are waiting to come protect your phone! Order now!
PowerSkins® are also available for the BlackBerry, iPhone and Samsung. Check out our website for all the details and 'Like' us on Facebook to receive the latest updates!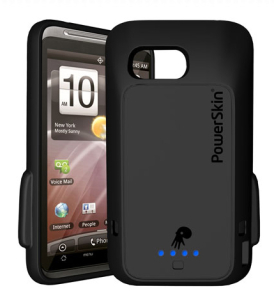 HTC PowerSkin for Desire and HD7
Specifications
Power Capacity: 1500mAh
Input Spec: 5V, 1A
Output Spec: 5V, 1A
Talk Time: 340 Mins*
Standby: 300 Hours*
Product Dimensions:
5L X 2.99W X 0.93H inches
12.8LX 7.6W X 2.4H cm
Weight: 0.17lbs / 77.1g
Package Contents:
PowerSkin Case & Charging Cable