No more dead battery! Energizer Energi To Go Portable Battery Range
Date Posted:13 January 2012
Ever been out and your mobile battery has died at a critical moment? Laptop has shut down and battery is empty? iPad has given up the ghost just as your finishing that word on Words With Friends? Nothing is more frustrating that having great technology with limited battery life.
The amazing Energizer Energi To Go range has a lightweight, cost effective way to make sure it never happens again! Across the range there is a solution for your every need: Your mobile phone, smartphone, iPad or other tablet, laptop, camera, gaming device and more, can be charged with one of these highly portable units.Caravan and Motorhome Magazine were so impressed, they created this video about it.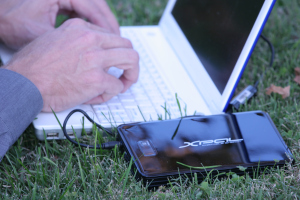 Power on the Go
Just gotta have one? Check out the full range on the Mr Mobile Webiste.
They all come with a full 3 year warranty, 500 + charges and free replacement connection tips. You just can't get better than that, Contact us today!