Latest Gadget for iPhone, iPad, Blackberry, HTC + more
Date Posted:18 October 2011
Fingers too fat for the iPhone keypad? Sick of smudges on your iPad screen? Or sick of products that only work for Apple devices?
I was recently given one of these nifty little gadgets: a mini stylus pen for the iPhone or iPad. I was so impressed with its functionality, its store-ability and its cuteness that I just have to tell you about them. Having a stylus reminds me of the days when I had a Palm device. I don't want to go back there….they were fiddly and I always used to lose them. So I was dubious when I was given this funny looking toy.
Little did I know that it would become a feature hanging off my iPad and that I'd need to get one for my iPhone too! Everywhere I go people ask me where I got it. I've even had someone in a restaurant ask when they saw me typing away.
The mini stylus pen comes in 5 classy colours (blue, red, white, black and silver) and boasts the following features:!
Compact, short design (4cm long) – with good width to hold even between the clumsiest of fingers
Soft rubber angled tip provides enough contact with screen to allow proper electrocurrent flow to replicate the use of your finger on the touchscreen (so precision typing and other actions are easy).
Clever clip that pops into a 3.5mm headphone jack making it easy to carry around and never get lost!
Works with iPads, iPhones, and other touch screen smartphones, HTC, Samsung, Blackberry Storm and more
Prevents smudging, scratching and damage to the screen
Gotta have one? They make a clever gift for the person who has everything... or loves the latest gadgets!
Order today through Mr Mobile.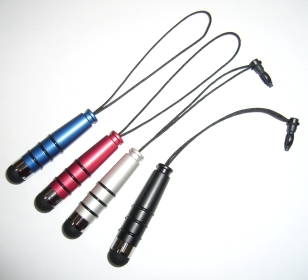 Mini-Stylus: 5 Classy Colours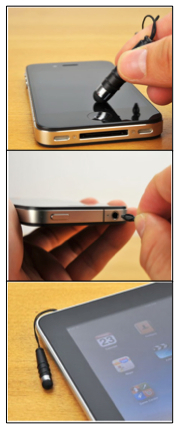 Mini Stylus for Touchscreens