An iPhone 4S Battery Drain Solution
Date Posted:22 November 2011
We thought we'd share this email from a customer who found a solution to massive battery drain on the iPhone:
Hi Steve,
I rang the other day and spoke to you in regards the poor performance, or so i thought of my Energizer AP1201.
I investigated online the issue of the battery in the 4s and ended up ringing Applecare and discussing it with them. I was quickly put onto a senior technical adviser. Following Ed's advice I backed up the phone via iTunes and then fully restored the phone. His advice was not too load any apps, songs etc onto it for a while and see how the battery goes.
I did this, and have progressively added all my apps and tunes back on.
I have turned off all the location services to all but 2 apps, and only use iCloud to sync my calendar, relying on iTunes over WiFi to sync/backup the rest when I get home. Siri on as well.
Since the restore it is still running on the initial 100% charge, 48hrs later with 30% charge left. Usage (awake time) of over 6 hrs. According to the System Activity App it has 8hrs left too empty. A lot more respectable than the 12hrs I was initially getting.
I think one of the main culprits in my case was the Diagnostics and Usage Data that was being sent to Apple every 30 secs, which is now set to Don't Send. Since the restore it has only generated 7 low memory / crash reports, nothing like the 100's it spat out in the first week.
So it appears mine's all fixed. With the Energizer skin I will have up near 5 days power if needed.
Hope you find some of this info useful.
Dave
Thanks Dave!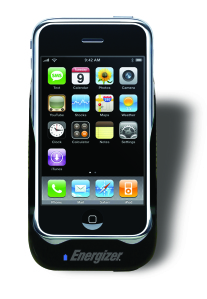 Energizer AP1201 for iPhone 4 and 4S