iPad Air cover & iPad Air mount. Simply the best.
Date Posted:1 July 2014
Whether your tablet is an indispensable work tool or a trusty entertainment device, the latest iPad Air accessories from Lifeproof and Ram are must-haves.
Often, you'll find the costly gadget you were smitten with in the showroom will struggle in the world of hard knocks. Who hasn't had a mobile phone slip from their fingers, or seen their favourite phablet slip off the table? The results aren't pretty – nicks and scuffs if you're lucky – a shattered screen if you're not; that is, if the item continues to work at all.
The real problem is that the high-tech gadget market is something of a beauty contest, where function frequently takes a "back seat" to form. Not only must a device perform, it must also have a sharp display, be lithe and lightweight, and have flowing curvaceous lines – it's gotta be sexy to beat the opposition.
Luckily, there is a thriving aftermarket catering for device deficiencies. Now, Mr Mobile has paired two excellent offerings from a couple of the best-known accessory providers, to make your device more usable, whenever you are on the go.
First, the aptly named Lifeproof, whose go-anywhere Nuud case provides robust protection and fits the iPad Air like a glove – without detracting from its stylish good looks.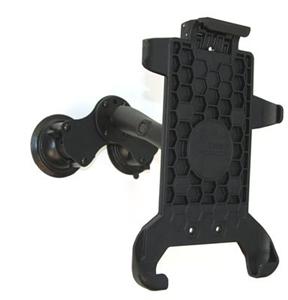 Nuud's 200 gram Mil-spec case allows full access to the functions and controls of the iPad Air, including operation of the touchscreen – very important if you are to maintain functionality in a mobile situation. It does this while providing a superior level of dust, water and snow ingress protection. Most importantly, Nuud adds a ton of shock resistance, allowing the iPad Air to withstand drops of 1.2 meters. Additional features include inbuilt sound channels, which enhance the iPad Air's own speakers, and an optical glass lens, allowing crystal clear pics from iPad Air's own camera.
Then, from mount-maker RAM, comes a quick-release device mount, matched to accept a special Lifeproof designed cradle. The re-positionable mount attaches to the interior of your vehicle. It employs a short linking arm, hinged at each end on gimbles – until it is fixed in the preferred position, one end connecting the mount, the other end connected to the cradle. The mount and cradle form a single device which keeps an unremitting grip on the iPad Air, holding it in its optimum operating position, ready for action, whenever needed. The cradle is also lockable, to provide maximum security for your iPad Air.
Then, when you arrive at your destination, the iPad Air, sheathed in its protective Nuud case, is simply detached from the cradle, to move with you, enhancing your productivity, and keeping you connected, so you'll never miss a beat.
So that's it: Nuud, a protective case allowing uninterrupted touch response; and the Ram/ Lifeproof mount & cradle bundle, to hold on tight to what you've got, giving you hands-free operation when you're in a vehicle. Simple ideas that just make great sense.