iFlashDrive for ipads, ipods and iphones
Date Posted:9 November 2012
The i-FlashDrive HD is the only portable storage solution for iPads, iPods and iPhones, with the ability to copy, swap, save, play and back up files across multiple devices. The plug, play, drag and drop pocket-sized drive allows sharing of files across iOS devices without the need for icloud or wifi connections.
The i-FlashDrive comes with both USB and 30-pin dock connector enabling a two-way data transfer between iOS devices and Mac or PC. It allows files to be transferred and saved like a regular USB drive and then view the files on the iPad, iPhone or iPod simply by plugging it in to the 30-pin dock connector, or just use it like an external hard drive for your portable iOS devices The first time the iFlashdrive is plugged into your iOS device it automatically launches a notification to download the free iFlashdrive app.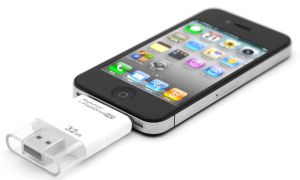 hard drive storage for iOS devices
With the USB connector it can be connected to any Mac or PC to allow users to simply drag and drop their files onto the device and by-pass having to use iTunes. There is no need to install any software drivers
Over 30 files types can be viewed, saved, copied and can include pictures, videos, audio, Excel, PowerPoint and Word files along with Keynote, Pages and Numbers files.
For pictures the device will accept all of the major files types – BMP, TIF, TIFF, XMB, GIF, ICO, CUR, JPG and PNG while the iFlashdrive will also accept all of the major video files – MPV, M4V, MOV, MP4.
For Audio the iFlashdrive can play MP3, CAF, ACC, AIF WAV AIFF and M4A files.
Users can organise the iFlashdrive by creating new folders and creating new text files, upload and download photo files and even use it as a voice recorder.
It's also possible to delete files, move files and copy files within the iFlashdrive just as you would with a USB drive on a computer.
The iFlashdrive can even back up contacts and also link to a Dropbox account, save and views files from the cloud on the go.
If you own an iPad, iPhone or an iPod, then the iFlashdrive allows you to directly share files on the run and view files stored on the device's flash memory instead of from the iOS products built in memory.
No need to to sacrifice precious space aboard your iOS.
The iFlashdrive is compatible with the new iphone 5 and ipads if a lightning dock adapter is used between the iphone 5 and iflashdrive.
The iFlashdrive is available in 8GB, 16GB, 32GB and 64GB online from Mr Mobile Australia.