EXTENDED OFFER Great Mothers Day Special ENERGIZER ® ENERGI TO GO ® XP4000 CAMERA POWER PACK Now On
We have extended our offer due to popularity.
Fantastic Mothers Day Offer Now $90.00 was $119.00 save $29.95
The XP4000 Power Pack is the perfect portable battery for most digital camera and camcorder – guaranteed! Charges all internal batteries too – using our new EZ Charger.
Don't let your Mum miss out on a beautiful photo or video again. The XP4000 allows you to charge your video or Digital camera on the run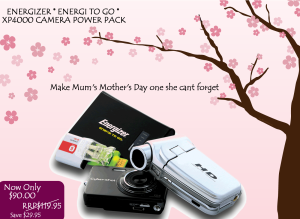 Spoil Mum on Mother's Day with the XP4000 Camera Power Pack