Communication on the Move: Sena SMH5 Review
Date Posted:14 March 2012
Building on the success of the "SMH10, The Best Motorcycle Headset and Intercom". Sena have now introduced a new version the SMH5.
The Sena SMH5 Bluetooth Intercom headset for helmets is designed specifically for Motorcycle and Scooter riders and allows wireless communications via a mobile phone or intercom conversations with other riders or your pillion passenger.
The SMH5 supports Bluetooth connectivity with up to 4 riders using the Multi-Pair Intercom functionality. Stereo Speakers means you will experience great sound whilst listening to music or talking with a pillion or other motorcycle riders. Pairing a GPS to the headset also means turn by turn instructions are heard loud and clear. Additionally a UHF two way radio can also be connected to the SMH5 via the bluetooth adapter SR10.
Like the SMH10 the SMH5 is available in a single or Dual pack.
Get your SMH5 today from Mr Mobile, read on for more information and download the Data Fact Sheet.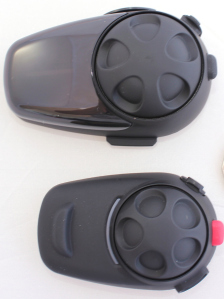 Sena SMH5
We get asked a lot what the difference is between the SMH5 and the SMH10. Here is the comparison:
Sena SMH10 v SMH5 Product Comparison
Features
SMH10
SMH5
Motorcycle intercom
Scooter
Talk time: HOURS
12
8
Standby time: DAYS
10
7
Working Distance (Intercom) in open terrain
900metres
400 metres
Headset Dimensions
84.1mm x 56.5mm x 38.6mm
70mm x 45mm x 30.6mm
Clamp unit:
224mm x 85.5mm x 30.6mm
49mm x 39mm x 22mm
Headset Weight
60 g
40 g
Clamp unit Weight
84 g
37 g
Headset Profile,
Yes
Yes
Hand-Free Profile (HFP),
Yes
Yes
Advanced Audio Distribution Profile (A2DP),
Yes
Yes
Audio Video Remote Control Profile (AVRCP)
Yes
Yes
Bluetooth
Bluetooth V2.1+EDR
Bluetooth V3.0
BT Multipoint connectivity
Yes
Yes
Built-in SBC Codec
Yes
Yes
noise cancellation
Yes
Yes
wind noise reduction
Yes
Yes
wide volume control
Yes
Yes
sample rate: 48kHz (DAC)
Yes
Yes
auxiliary audio-in connection via 3.5mm jack
Yes
NO
Battery Charging time:
2.5
2.5
Optional Clamp Kits
Attachable Boom, wired mic & earbuds
Boom & wired mic Only, NO Earbud
Bluetooth Connection to SR10
Yes
Yes
Intercom Conferencing
YES up to 4
YES up to 5
Intercom VOX
Yes
Yes
2 Year Warranty
Yes
Yes
Whats in the Box
SMH10 BT Unit
SMH5 BT Unit
USB Power Cable
USB Power Cable ONLY
DC Power Charger
Boom Microphone + mic sponge
Cigarette Charger
Wired Speaker
3.5mm Stereo Audio Jack Cable
Clamp Unit
Speaker – Microphone Clamp Unit
Velcro Pad & a spacer
Glued Surface Mounting Adaptor
Glued Surface Mounting Adaptors
Velcro Pad
Hex/Allen Keys
Microphone sponge
Hex/Allen Key