ASUS EP121 Eee Slate Running out of Battery? We've developed a solution!
Date Posted:19 July 2011
We have been run off our feet with enquiries about whether we have a portable battery solution for the ASUS EP121 Eee Slate. And now we do! Due to your requests, we've had a connection tip made for the XP8000 Energizer® Energi to Go® Netbook Portable Charger or the Bigger battery the XP18000, the AB 23
There is no need to throw your hands up in frustration at short battery life any longer. With the XP8000 and our new tip you can plug in the portable battery and get instant power. With a 4 hour charge time you'll get an extra 4 hours from your ASUS EP121 Eee Slate. Now you can watch extra video, play those games and listen to music, all without the fear of draining your battery and being caught on the move with no technology!
This compact 10 cm x 7 cm, light weight (223g) portable battery plugs directly into the USB for instant charging. You can charge up to three devices at once and comes with 15 tips for a variety of mobiles, tablets and netbooks including iPhone, Blackberry, Samsung and Nokia phones (check here for applicable models). It comes pre charged out of the box and maintains charge for up to a year! Carry this nifty charger in your bag and you'll never be caught powerless again!
For the size of a Blackberry you get out of the box: Energizer XP8000, AC adapter, 3 charging cables, 15 tips, travel bag, user's manual. Buy one today and we'll post it out straight away! Just let us know you have the ASUS EP121 tablet and we'll include our special tip in your delivery.
Click 'Like' on our Facebook page before 31st July, 2011 and you'll go into the draw to win a XP8000 Energizer® Energi to Go® Netbook Portable Charger!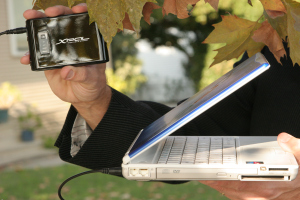 Carry this nifty charger in your bag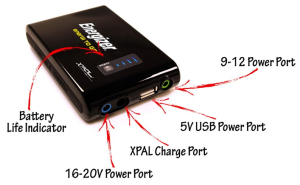 XP8000 Features