A very happy Harley customer
Date Posted:6 September 2011
The other day while waiting for a mate to put fuel into his Harley-Davidson® CVO® Street Glide® at Gloucester a group of fellow riders asked me a few questions about the Bluetooth device attached to my helmet. They were looking for something that they could use to talk to each other while riding.
I've had my Sena SMH10 Bluetooth intercom unit for at least 18 months now and have been very happy with it. I'm a bit of a technology luddite, so I need things to be simple to use. I don't push the Sena SMH10's to its capabilities using it only 2.5 different ways.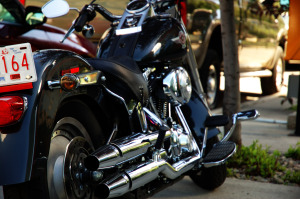 no problems setting an appropriate volume with it to overcome the Harley-Davidson sound
I pair the SMH10 to my Tomtom Rider 2 GPS (product names now changed) when riding down busy highways so it can tell me where the speed cameras are. Setting it up is just like the instructions, simple and it works a treat. I also pair the GPS to my iPhone so it acts as a hands free device and receiving calls is almost seamless. It's worth noting I already had the SENA SMH10 before I got the Tomtom so I've never used the Cardo bluetooth unit that came with it.
I pair the SMH10 Bluetooth Intercom straight to my iPhone when I don't need the GPS. This is seamless as well. The only issues I really have with that setup are my fault. I leave the SENA turned on while I go into a cafe and when the phone rings the SENA answers. I have an impression that sometimes when you walk out of range and back into range the phone doesn't reconnect. Not sure if that's the phone, the SMH10 or my mind playing tricks so out of habit I switch the bluetooth unit off and back on and when I hear the two beeps I know all's good.
I pair the SENA SM10 to my phone and try to use the phone as an pod and play music through it via blue tooth. Not sure what goes on here, it often randomly dings in my ear and jumps to the next track. But that's not really a problem, there's an input in the SENA you can plug the pod/phone straight into with a cable provided and bypass blue tooth for this use. I've never used the cable and I have only tried to use the setup for music a couple of times for the heck of it, preferring to hear the purr of my Vance and Hines Power Duals to the poppy tones of Miley Cyrus while I'm being a biker type.
One outstanding feature of the SENA is how long the batteries last. I've done 12+ hour days without a sign of it going flat, my iPhone's not that lucky but I've got a 12v adaptor in my King Tour Pack to keep it going as long as the intercom.
I've also ridden in some serious rain dumps and it's never failed or leaked internally. A couple of times after riding through major storms I've even noted some moisture between the bluetooth unit and where it clips onto the microphone cradle (attached to the helmet) it's still not failed. Very cool.
The sound quality is pretty good with two speakers a good size and it's stereo, so the music sounds good when you have it on. I've had no problems setting an appropriate volume with it to overcome the Harley-Davidson sound and earplugs. Sound quality the other way is also good, my better half has never complained about problems on the other end of the phone hearing/understanding what I'm saying. I do use a full faced helmet with the mic inside.
Downsides, it's a bit big. While I haven't noticed any additional wind noise or any detrimental effect from the size you can certainly see it from almost any angle and it frankly doesn't look that great IMHO. Having said that, the jog dial and button on the back are really easy to use with gloves so I guess there's a plus for the size too. The last bluetooth unit I had looked small and cool, but I have to go for function over form in this one and stick with the SENA Unit.
Apparently you can connect up to four of the units for intercom use, even though I've got a dual set I've never used it for chat with a pillion or fellow rider, so I can't talk on that point but I'd assume that since everything else works so well, there's no reason this feature wouldn't.
I bought my SENA SMH10 Bluetooth Intercom Dual Pack from Mr Mobile, I don't know if there's cheaper pricing out there but the service is great and I had a warranty issue sorted by them quickly, very efficiently and followed up by a phone call to make sure everything was OK.
All up, the SENA SMH10 gets three thumbs up from me, for what that's worth :-)
This article was reproduced with permission from the author and was originally published on his blog 'My Harley-Davidson'.