Selfie stick monopod for iPhone & Android
Date Posted:26 August 2014


The Bluetooth Selfie Stick is the gotta-have-it smartphone accessory of our time.
Social networking spawned the "selfie": it was never enough just to "be there" – selfies make you part of the action. That is why blurry happy snaps are just not going to cut it; now that images are shared right across the media. The quality of the shot has become all important.
Each new generation of digital cameras and camera-phones is able to create sharper images. This makes a selfie adapter such as the "iPhone Stick" – a bluetooth-enabled monopod stick on steroids – the portable camera gadget of choice.
Before the digital age, telescopic monopod sticks were a great aid to photographers; bearing the weight of the camera; providing stability and eliminating camera shake – without the need to resort to cumbersome tripods. These days, even though digital cameras have become much lighter, users want to put themselves in the picture more and more.
Try holding a camera at arm's length: the results are often pretty blah – only as good as the angle, camera shake and depth of field allows. To get the best shots you need to employ a Selfie Adapter. This is a stick-like gizmo that extends telescopically, just over a meter, holding your digital camera firmly onto a screw-thread gimbaled adapter, or in a clamp in the case of Apple or Android phones. The idea is simple enough. You could fashion a similar thing out of a broom handle if you really wanted to – but this iPhone stick has a secret sauce – and that is the bluetooth controls embedded in its handle. When you pair the selfie stick to your phone or camera, bluetooth control allows you to power the camera on or off, adjust wide or narrow focus, and take pictures at the press of a button. Hallelujiah!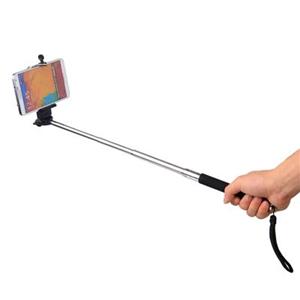 Now that your selfie stick is out there, you can strike a more natural pose, and also take in more of the action that you are part of. Which means you can fit ALL of your friends into the shot. Having camera controls at your fingertips is a boon too, as you can quickly change the pace, direction and focus of shots – all this from something that easily fits in your pack or back pocket. The monopod stick is made of aluminium, with a tough resin handle and attachment fixtures at the camera end. It is versatile enough to fit a wide variety of mobile phones on the market, along with most cameras up to 500 grams including the GoPro and SENA action cams.
The selfie stick adapter's ball head and thumb screw adjusts through 180 degrees, making the iphone stick a real asset – enabling you to rise above the crowd – should you find yourself in a crush, 3 feet from your idol – whether that is genuine visiting royalty or the artist formerly known as Prince.
Alternatively, the monopod stick is handy for finding small change that has rolled under the bed, and will also keep you at a safe distance whilst obtaining wicked close-ups of yawning lions, the smile of a crocodile or the gaping jaws of a great white shark.
If selfies are your shtick – the selfie stick will improve your image quality, ensuring you get your entire quota of fame – while at the same time providing a handy device to fend off aggressive paparazzi and overzealous autograph hunters.